Ceramic Tile vs. Vinyl Flooring
98 Flooring and Mattress
When you need flooring that can survive stains from pets or children, you might consider opting for ceramic tile or vinyl flooring rather than carpet, solid wood, or even laminate.
Both flooring options are excellent for resisting stains and shedding moisture. Usually, when determining between the two options, they will be for high-traffic areas such as the kitchen, mudrooms, laundry rooms, and bathrooms.
Vinyl flooring is popular among homeowners because it can replicate the look of stone, wood, or even ceramic tile. Ceramic tiles and vinyl tiles are vastly different materials, meaning they have different characteristics concerning maintenance, installation, and real estate value. When you know the differences between the two, you can then make the best decision for your home.
Vinyl Flooring
Vinyl tile is essentially vinyl flooring. It is made from PVC plastic with a fiberglass or felt backing layer. It is covered with a print design layer and a transparent wear layer. The vinyl is cut into squares, usually 9 to 18 inches across. Other forms of vinyl use pulverized stone dust in the manufacturing procedure. These are called composite tiles. Many people agree that composite tiles look more realistic than plastic vinyl tiles.
Another form of vinyl tile is luxury vinyl tile (LVT.) This tile is much thicker and connects to other tiles with click-lock edges. The other vinyl tile is applied with a troweled-on mastic. You can also find the luxury tile in plank form (LVP). Many people enjoy the natural look of LVP.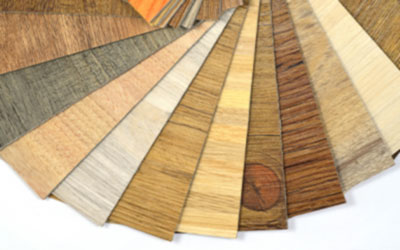 Ceramic Tile
Ceramic tile is made from natural earth clays that are then mixed with other materials and covered in a glaze on the surface. Once everything is mixed together, and the glaze applied, the ceramic is put into ovens to harden the material. One category of ceramic tile is porcelain. The porcelain tile is made from more refined clay and fired at a higher temperature; this makes them harder to break and thus more durable.
You can use the ceramic tile on areas other than the floor for countertops, walls, and showers, while vinyl flooring is only used as a flooring material.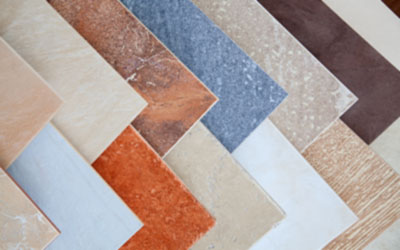 Heat and Water on Ceramic Tiles and Vinyl Flooring
Ceramic and vinyl tiles are waterproof, yet LVP can have moisture penetration between the joints. Ceramic tile is nearly impervious to heat, but heat can easily damage vinyl flooring.
Best For Appearance Ceramic vs. Vinyl Flooring
Deciding which appearance is better between the two is subjective, but few people would dispute that ceramic tile has the edge when it comes to appearance, especially porcelain tile. There is elegance with ceramic tile that you do not have with vinyl flooring. However, some people would prefer their home to have a bohemian charm, and vinyl flooring is perfect for these homes.
Ceramic and Vinyl Flooring Near Me
Ultimately the choice is up to you, but we hope that sharing the differences with you will make your decision easier. At 98 Flooring and Mattress Outlet, we have a variety of flooring options, and our flooring specialists can help you determine the perfect flooring for your home. Visit us today at one of our two convenient locations in Miramar Beach at 9501 Emerald Coast Pkwy or in Panama City Beach at 19605 Panama City Beach Parkway.
98 Flooring, 98 Flooring and Mattress, 98 Mattress, best flooring for families, best flooring for pets, ceramic flooring, ceramic tile flooring, low price flooring, low price guarantee, Luxury Vinyl Plank Flooring, LVP, LVP flooring near me, LVP in Sandestin, Miramar Beach Flooring, Panama City Beach Flooring and Mattress, Sandestin Flooring and Mattress, scratch resistant, vinyl flooring, waterproof flooring