Low Price Guarantee on All Flooring 
One of the quickest ways to give your home a sleek and stylish update is replacing the flooring. Or perhaps your floors are just in dire need of replacement due to toddlers or pets. Many people worry that as much as they would like to invest in new flooring, it is just a luxury they cannot afford. This is a misconception, especially at 98 Flooring. At 98 flooring, we want everyone to be able to have the floors of their dreams. We offer affordable prices on our quality flooring, even the current most popular flooring, Luxury Vinyl Plank Flooring, or LVP flooring.  
There are currently two 98 Flooring and Mattress Locations with great flooring prices in the Sandestin area, one in Panama City Beach and another in Miramar Beach, Florida. We offer the best prices for in-stock luxury vinyl plank flooring, porcelain floor tile, backsplash tile, engineered hardwood flooring, and premium carpeting. We are able to give you quality flooring at low pricing because we buy a majority of our inventory directly from the manufacturer and then pass the savings to you.
We have over 30 colors and Luxury Vinyl Plank flooring styles in stock. We are the perfect place for home builders working on new construction and or for anyone looking to remodel their home. We are also the largest retailer of waterproof flooring in the entire Florida panhandle.
When searching for the perfect flooring for your home, it can get overwhelming. The right flooring for you is a personal choice, but we have savvy designers in-house who can help you choose the right flooring for your home. They will help you figure out what is practical for your home situation while also making sure your home looks luxurious and at 98 Flooring pricing.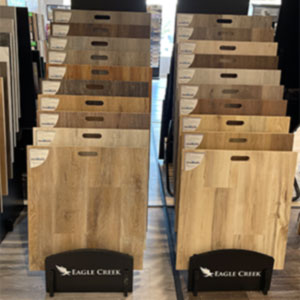 If you have already typed into your search bar, "flooring deals near me," this is the place you are seeking. Update your home without spending a fortune by getting your new low-price flooring from 98 Flooring and Mattress. Our two convenient locations are located at:
9501 Emerald Coast Pkwy Miramar Beach, Florida or at 19605 Panama City Beach Pkwy, Panama City Beach, Florida. We hope to see you soon!
98 Flooring and Mattress, best flooring for families, best flooring for pets, low price flooring, low price guarantee, Luxury Vinyl Plank Flooring, LVP, LVP flooring near me, LVP in Sandestin, Miramar Beach Flooring, Panama City Beach Flooring and Mattress, Sandestin Flooring and Mattress, scratch resistant, waterproof flooring