Luxury Vinyl Plank vs. Engineered Hardwood Flooring. Which is Best for You? 
Gorgeous hardwood floors look fabulous in most homes, but they can be a significant investment. Fortunately, there are other options that look just as good as hardwood floors. Here are two types of flooring to consider if you would like the look of hardwood while still being able to stick to a budget. In this guide, we will share the pros and cons of luxury vinyl plank flooring vs. engineered hardwood flooring to help you decide which flooring option is right for you. 
Maintenance and Cleaning
Luxury vinyl plank flooring or LVP is easy to clean because it is water-resistant. For daily cleaning, you simply need a broom or a vacuum. If the floors are filthy, you can use a mild cleanser with a mop. However, engineered hardwood floors require a particular type of cleaning, you can still use a broom or mop, but you must clean them with a specific cleanser geared for engineered hardwood floors.
When maintaining the floors, LVP flooring requires little to no maintenance. It is a good idea to control the amount of sunlight the floors receive to avoid fading, but if you must repair LVP flooring, you can usually do it on your own, one plank at a time. Engineered hardwood requires the use of putty and stain. If they are in complete disrepair, the floors will need to be refinished.
Durability
LVP flooring is a better choice if you have children or pets since it is more resistant to damage and scratches. However, it is not entirely indestructible. If you place heavy appliances or furniture on this flooring, it can dent or tear.
Engineered Hardwood flooring is comprised of layers, making it more durable, especially when it comes to moisture and humidity. Since the top layer is made from natural wood, scratches might be more visible, but it is resistant to dents and dings. The engineered hardwood can also tolerate water and will not rot like standard hardwood floors.
Installation
When choosing new flooring, the installation process and cost are essential factors. LVP flooring is installed using a tongue and groove design, so the planks click together. Engineered hardwood installation is a much more complicated process. If you are looking for a DIY project with easy installation, LVP flooring is the best choice.
Styles
LVP flooring is created through a printing process, so many different styles and colors are available. You can even purchase LVP flooring that looks like natural wood, like pine or oak wood. Engineered hardwood is built with layers of real wood, making it available in the same often sought-after look as genuine hardwood floors. Therefore, many people find engineered hardwood flooring more aesthetically pleasing.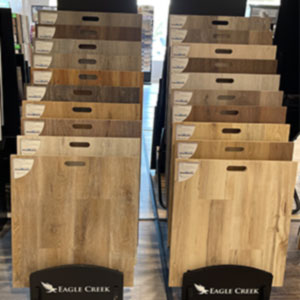 LVP Flooring and Engineered Hardwood Near Me
Choosing the right flooring is a hard decision, but our team at 98 Flooring and Mattress is here to help you decide what would work best for your home. Contact us for a complimentary consultation at (850) 797-0069 or stop in for a visit at 9501 US-98 Miramar Beach.
98 Flooring and Mattress, 98 Flooring and Mattress Ceramic tile, best flooring for families, engineered hardwood flooring, luxury vinyl plank, Luxury Vinyl Plank Flooring, Miramar Beach Flooring, Panama City Beach Flooring and Mattress, pros and cons luxury vinyl plank, scratch resistant, waterproof flooring