Is it Time to Switch to an Adjustable Bed? 
Choosing a bed can be difficult because you usually commit to a new mattress for several years. If you are having trouble picking the right bed for you, you may want to consider an adjustable bed. For years, when people thought of adjustable beds, a hospital bed would come to mind. But times have changed, and adjustable beds are more popular than ever. In fact, according to the International Sleep Products Association, adjustable beds are currently one of the fastest-growing bed products. So, precisely what is an adjustable bed like these days? 
Adjustable Beds
You can choose from an adjustable frame or an adjustable mattress. You get to control the settings that adjust to your comfort level. Here is how adjustable beds work:
Adjustable Mattresses: These mattresses have inner air chambers, interchangeable springs, or configured foam layers with latex, gel, and foam. Some work with a remote, while others work manually. In addition, you and your partner can adjust your sides independently.
Adjustable Frames: Beds with an adjustable frame have a motorized base that moves into different positions with the push of a button. You can lower or lift the head or foot position on the bed. Some new "smart" beds even come with massage rollers, voice commands, sleep monitoring tech, etc.
There are many benefits to using adjustable beds, such as:
Doctors recommend that people suffering from back pain consider getting an adjustable bed since lying flat on a bed increases tension in your muscles and joints.
The adjustable base can curb snoring. Snoring occurs when airflow through the nose and throat is restricted. The inability to breathe correctly causes the surrounding tissues to vibrate, making the snoring sound. For example, gravity pulls on your throat and constricts your airway when you lie on your back. Raising your head when you sleep can help clear your airway.
The adjustable base can prevent acid reflux or heartburn. Heartburn is typically worse at night and can make it hard to fall asleep. Also, if your head is elevated, the acid will not back up into your esophagus, causing heartburn.
Adjustable beds make it easier to get in and out of bed. As we get older, getting out of bed gets harder and harder. Raising the head and lowering the feet makes it easier to change position and get out of bed.
Best Mattress for an Adjustable Bed?
Can you use any mattress with an adjustable bed? Basically, any foam mattress, including latex or memory foam, can be used in an adjustable bed. Also, many innerspring mattresses work well. However, we advise staying away from mattresses too thick to flex properly.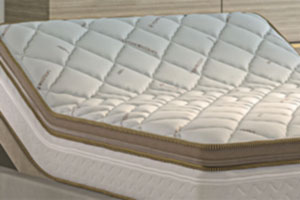 Adjustable Bed Mattresses Near Me
At 98 Flooring and Mattress Outlet, we offer a variety of mattresses, including the Sealy Hybrid mattress and Saatva mattress. These mattresses have been voted 2 of the best mattresses for adjustable beds. The best part, with us, you can save up to 75% off our top name-brand mattresses. We can pass the savings on to you because we work as a liquidation outlet. We have name-brand mattresses that are discontinued models, overstock, slightly imperfect, closeouts, or floor models from Sealy, Stearns & Foster, Capital Bedding, Saavta, and many more. Stop in today to find the perfect mattress for you at either one of our 2 locations, 9501 Emerald Coast Pkwy, Miramar Beach, or 19605 Panama City Beach Pkwy, Panama City Beach. 
98 Flooring and Mattress, adjustable bed, adjustable bed foundation, Adjustable bed frame, adjustable beds, best mattress, Panama City Beach Flooring and Mattress, Saatva mattress, Sandestin Flooring and Mattress